Custom Esports Jerseys by Playmakers Wanted
Professional gaming has been around almost as long as video games themselves. In fact, esports has only been taken seriously as a competitive sport in the last 20 years. Today there are not only thousands of esport competitors but hundreds of teams as well. In short, these players compete in dozens of leagues across a multitude of games and genres. But as new a frontier as esports may be, it is still in many senses a traditional sport. However, esports still have many of the same traditional needs, from team leadership and practice space to uniforms. After all, nothing makes one look like a team, like a unified look that a proper jersey brings with it. Consequently, this is how we came across Brian Teske and his custom esports jerseys company, Playmakers Wanted.
First traditional sports jerseys…
Brian's brush with competitive gaming came firstly, way back with the release of Starcraft 1. He is also the owner of Connecticut-based screenprinting and embroidery shop SigmaWear. But even so, Brian has always been a competitive athlete, playing football, track and basketball in high school. His passion for gaming actually continued long after he had graduated from UCONN with a degree in actuarial science.
And so with a focus on traditional sports, SigmaWear outfitted many local middle school, high school, and college athletes with uniforms. However, the idea of expanding into gaming was never far from Brian's mind. Indeed, Brian had purchased the playmakerswanted.com domain years earlier with no idea of how he would use it.
"I always had this passion for video games and the community they can then bring together," says Brian. Over the past few years he has also created his own online Discord community for Clash of Clans. "I didn't plan it, to tell the truth – it just sort of happened."
…then custom esports jerseys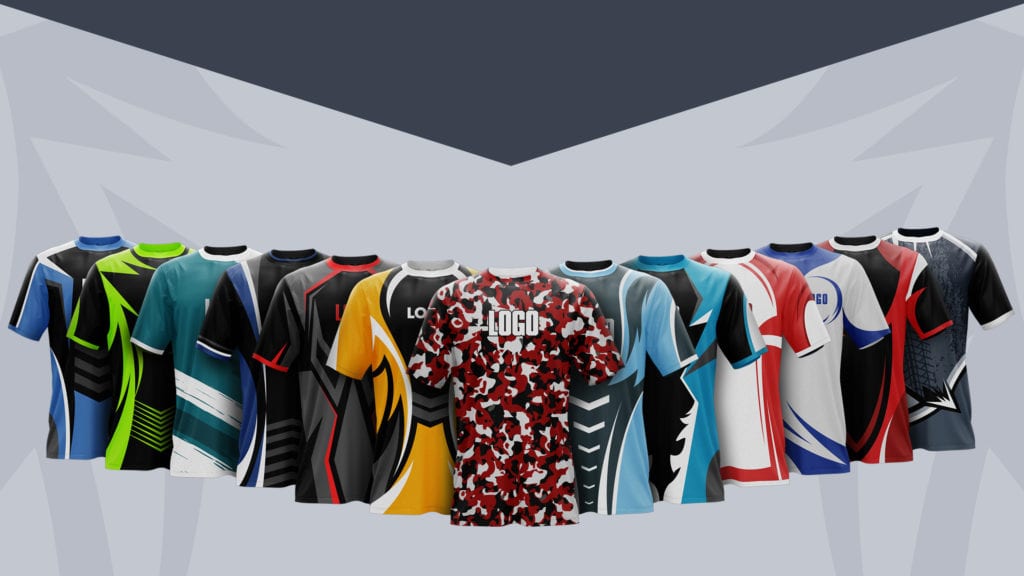 The real lightbulb moment didn't come until this summer. When Central Connecticut State University announced it's new esports center. Brian lives less than a mile from the CCSU campus. Then inspiration struck him! What is more he had already done business with them in the past. Why not also offer competitive gamers custom jerseys for their teams?
As a matter of fact this was hardly an original idea. However, Brian found there was no dedicated option for just gamers. And so working with a developer and marketing team, Brian quickly put together an online customization tool. The designs preloaded on the tool was also appealing to gamers. He then reached out to his network of fellow gamers and found a ton of support. Not only did he find support in fellow games, but also from big names in the Clash world like Carbonfin. "At this point I still had no idea what I was doing," explains Brian. "But still I was enjoying every minute of it."
From there, Brian outfitted several aspiring clash teams with custom esports jerseys while embarking on a digital marketing campaign. His campaign included video contests, social media, and even more influencers. "It just took off faster than I anticipated," says Brian. "Suddenly I had huge orders coming in from people across the country, and then the world". Certainly a ringing endorsement for Playmakers Wanted, which emphasizes the quality, comfort, and fast, free shipping of the esports jerseys.
In the first place is ordering as simple as choosing a design, uploading your logo, and entering your name, team, and number. Secondly, with a dozen of preset designs and thousands of possible color combinations, no two jerseys ever need to look alike. Thus, giving esports teams a level of customization they won't find elsewhere.

What is too follow?
Yet Brian is far from finished. "This has become more than just a passion project – it's a real, viable business venture," he explains. "We're now also working on new designs, new features, and really streamlining the ordering process. 2020 is indeed going to be a huge year for Playmakers Wanted, and esports."
We'll certainly be watching closely. So do you want to see what custom esport jerseys Playmakers Wanted has to offer? Then head on over to https://gamer.playmakerswanted.com and start the customization process.
Other Clash School articles you may like:
Coaching
◊ Performance coaching in E-sports ◊
Gaming