Summer Update Info! by Clash Royale
Clash Royale wrote:
THIS UPDATE IS NOT LIVE YET BUT WILL BE SOON!
Hey everyone,
We have a brand new update just before summer and we have some great things to show you with loads of info!
So let's jump into it:
TROPHY ROAD EXTENSION
We wanted to make Trophy Road (aka ladder) great again!
We have extended the Trophy Road to 8000 trophies and moved the start of the Leagues to 5000 trophies! We've also reviewed the early season reset for it to be dynamic.
For the Trophy Road
Two Arenas make their entrance in the Trophy Road: Rascals Hideout and Serenity Peak. Additional Arenas mean additional rewards on the road that you will be able to collect!
For the Leagues
The Leagues now start at 5000 trophies, and the more you climb, the less you'll get reset at the end of a season. See more below: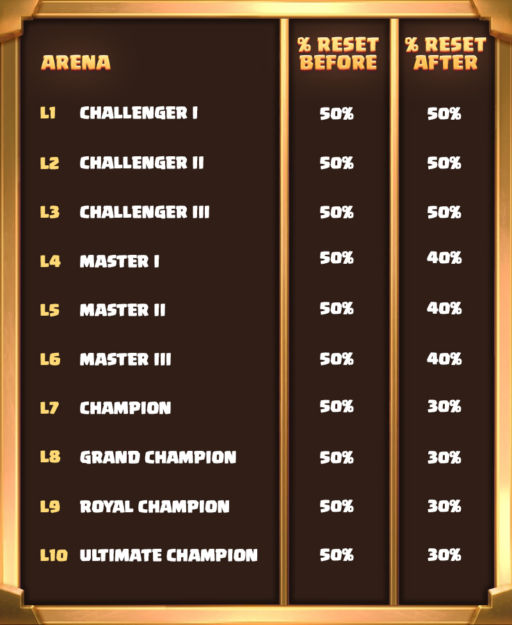 Change for trophy loss
We've also changed the trophy loss balance. Starting Master I, you will now lose the same amount of trophies for a defeat as you gain for a victory. The exact amount will still depend on your opponent's trophy count.
Leagues will be more challenging to climb, but you should be seeing opponents who are more equally matched. Also, reaching your new personal best will be more rewarding as you will get a lower reset percentage at the start of the new season.
What will happen to you when the new season starts?
If you reset below 5000 trophies, you will not be in the Leagues anymore. But worry not! You will be able to climb back while collecting the new rewards.
If you reset above or exactly at 5000 trophies, you're still in the Leagues, and you will be able to climb even higher than before during this season! So aim high!
MORE GOLD AND BETTER CHESTS
For King Level 11 players and beyond, you can now find the Gold Crates in your Chest cycle. The chance of one of these Crates dropping increases with the King Level. There are 3 variations: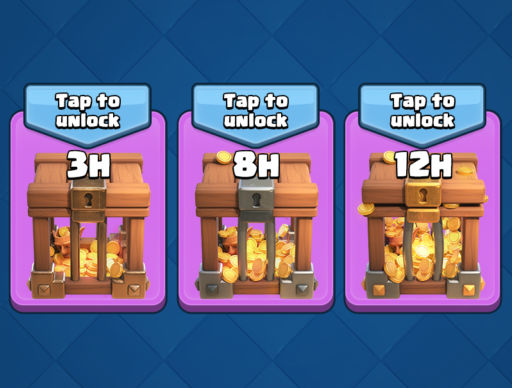 With the introduction of two new Arenas on Trophy Road, the chests see their content scale-up for arena 14 and 15, as well as Victory Gold!
SHORTER PASS ROYALE AND BIGGER BANK
The number of crowns required to complete the Pass Royale has been reduced! Some tiers are now unlockable after 5 crowns.
The amount of gold in the Bonus Bank after you completed Pass Royale has been increased from 10000 to 25000 gold! The Goblins are jealous.
CLAN WARS II CHANGES
We've changed the system for it to be fairer. First thing first: Fame is now called "Medals".
Training Days and Battle Days
Now, Clan Wars are broken into Training Days and Battle Days. On Training Days (Monday to Wednesday), you can earn Gold by practicing with your War decks in River Battles.
On Battle Days, Battles will award Medals, which help move your Clan towards victory. Boats will now advance at the same time at the end of each battle day. Medals earned are totaled, transformed into Movement Points, and the Clan with the most Medals will move their boat the furthest.
If you don't cross the finish line, it's ok! At the end of the last Battle Day, War Chests will be awarded based on each Clan's position on the River.
Improved Boat Defenses
Boat Defenses that survive each Battle Day will now generate Movement Points for your Clan! Strategize with your Clan to have your strongest Clanmates protect the defenses that generate the most points. Leaders and co-leaders can remove the defenses!
NEW CARD: GOBLIN DRILL
Behold the latest state-of-the-art Goblin technology: the Goblin Drill! Tunnel your way under the Arena and unload Goblins next to the opponent's towers!
The Goblin Drill is a brand new Epic card that will allow you to sneak behind the enemy's line for a 4 elixir cost.
QUALITY OF LIFE
5 more deck slots
You now have a total of 10 deck slots available!
Rewind functionality
It is now possible to go backwards and forwards in time when watching your battle replays.* #emiTdniweR
*Available soon for Duels
Permanent game modes in Friendly Battles
We heard your feedback and added more permanent game modes (15!) in Friendly Battles for you to play with your friends/clanmates.
Random Tower Skin Selector
You can now select a random tower skin option to automatically switch between the different tower skins you own in each match.
BALANCE CHANGES
Fire Spirit
Furnace
Elite Barbarians
Rascals
Giant Skeleton
Cannon
Cannon Cart
Golem
Ice Wizard
FIXES AND IMPROVEMENTS
Multiple issues reported by players fixed
Fixed 50+ members in war bug
Magic Coin and trades bug fixed
Fixed drop glitch
Players can now spectate SCID friends battles
Fixed some issues for Fisherman
Bandit's dash no longer continues after the timer reaches zero
Removed Strike icon from Pass Royale
Fixed missing Mirror deployment animation
Localization fixes/updates
UI Improvements
Other minor fixes/improvement
We hope that you're as excited as us about this new update! Feel free to share your thoughts, suggestions or ideas on our social channels:
See you in the Arena!
The Clash Royale Team
About us
Clash School's mission is to elevate players' skill-set by working one on one with our professional coaches. Our mentors offer hourly lessons dedicated to strategy analysis, team coaching, and more.
Visit us on Clash Champs for all your recruitment, community news and base design needs.
Other Clash School articles you may like:
Coaching
Gaming
General
Guides
Products
Pro Tips
Brawl Stars
Clash Royale